We're excited to be able to help teachers request materials and resources for their own professional development.  It's another way we're hoping to help teachers and students nationwide!

By creating a professional development project, you can request instructional resources and experiences that will teach you new skills to apply in your school. We know classrooms don't just run on pencils, paper, and paint! Whether it's bringing a speaker to your next faculty meeting, a workshop for Special Education training, or getting a set of texts on instructional strategies, this is a chance for you to get the resources you need to grow and improve as an educator. 
Get started and select Professional Development when you create a project: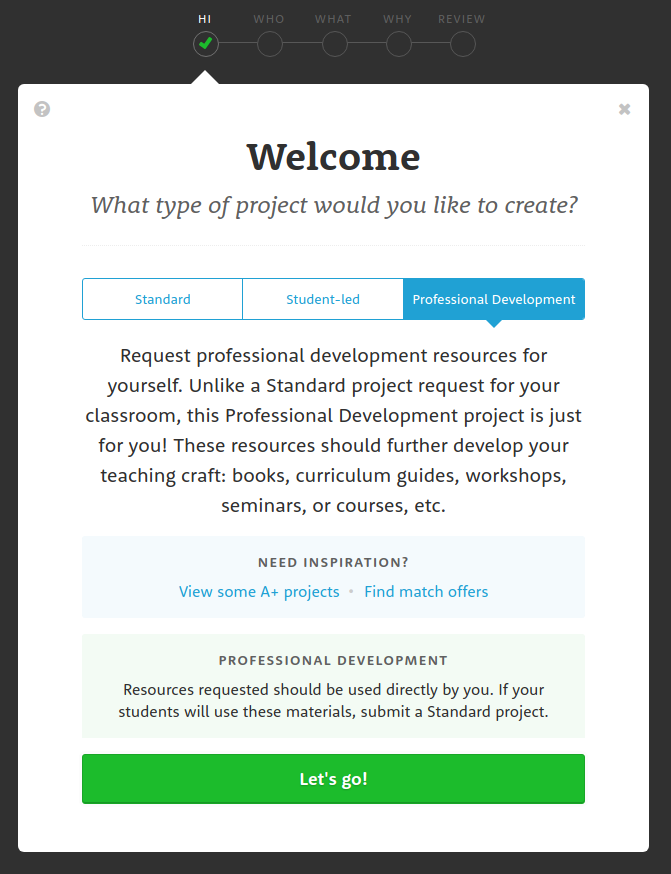 What types of resources can I request?
You can request resources or experiences that will help you improve your craft as an educator. What you learn should ultimately benefit your students and can be applied to the classroom within the school year. In your project essay, you will need to describe the materials or experiences you are requesting, what you hope to learn from them, and how this learning will benefit your students.
For example, a book or workshop on classroom management is good (you will learn new strategies and your students will get to see them in action!); snow tires to help drive through the snowy winters of Wisconsin to get to class on time will not work (snow tires won't improve your craft and students will not get to experience a new skill you learned).
We're not able to accept requests for teacher salaries, gift cards, or any other purchases that occur before your project is fully funded. International trips should demonstrate that you'll be taking part in a professional development program while abroad.  If you submit a trip or visitor project, the trip/visitor must take place between 2 and 8 months after your project submission date.
Any physical materials are considered property of the classroom according to our materials ownership policy.
Can I attend a conference or workshop over the summer?
Yes! The trip should take place between 2 and 8 months of when you submit the project.
Admission to the conference or workshop is only part of what I need to access professional development.  Can I request funds for food and transportation, too?
Yes! We want to make sure everyone can have the best Professional Development experience possible, so if the program you want to experience is in a different place or will require a few days in a hotel, we've got you covered. When you create a Professional Development trip project, you'll see that you can budget a few different items into your total project cost only for the days of your event:
Up to $30 per day for food

Up to $100 per day for lodging

Up to $150 per project for transportation
Imagine you're attending a two-day workshop in another state.  That means you could request up to $60 for food, up to $200 for lodging, and up to $150 for transportation. 
Make sure to separate these three costs in the "WHAT" section of your project.  We'll process your food, lodging, and travel costs as reimbursements.  After your trip takes place, just upload your receipts and we'll take it from there.
How can I thank my donors?
Donors love having a new way to support your classroom, and they'll be excited to hear about what you learned. Check out our tips for completing your Professional Development Thank-You package.
Note for donors:
In most instances, donations to professional development projects are tax deductible. However, contributions to a close relative's professional development project may not be. If you support a professional development project of a close relative, please speak to your tax professional to confirm if your donation is tax deductible.
Donations to standard classroom resource projects on DonorsChoose.org are tax-deductible to the full extent of the law.