During the 2022-2023 school year, in-person Professional Development projects are unavailable. Fill out this form to let us know this project type is important for you.
You can still submit a virtual Professional Development project like this great opportunity.
What types of Professional Development can I request?
While many virtual PD experiences are eligible as long as they meet project eligibility requirements, we are unable to post projects for virtual experiences and resources from Get Your Teach On.
-------------------------------------------------------
Professional Development refers to a wide variety of specialized materials or training, including conferences or classes, intended to help teachers improve their professional knowledge, competence, skill, and effectiveness.
How to write a Professional Development project essay
In order for your project to be approved, be sure to describe the materials or experiences you are requesting, what you hope to learn from them, and how this learning will benefit your students!
What types of resources or experiences can I request?
You can request resources and experiences to help improve your craft as an educator at any time throughout the year. What you learn must ultimately benefit your students within the school year. For trips and visitors, please make sure your event date is within 2-8 months of the date you posted the project.
We know events come with other expenses, and we've got you covered! You can include the following into your total project cost for the days of the event:
up to $30 per event day for food

up to $100 per event day for lodging

up to $150 per event for transportation
Please note that our team will only be able to provide reimbursement for a receipt showing payment has been made.
Check out commonly requested resources and experiences for professional development.
Select Professional Development when you create a project: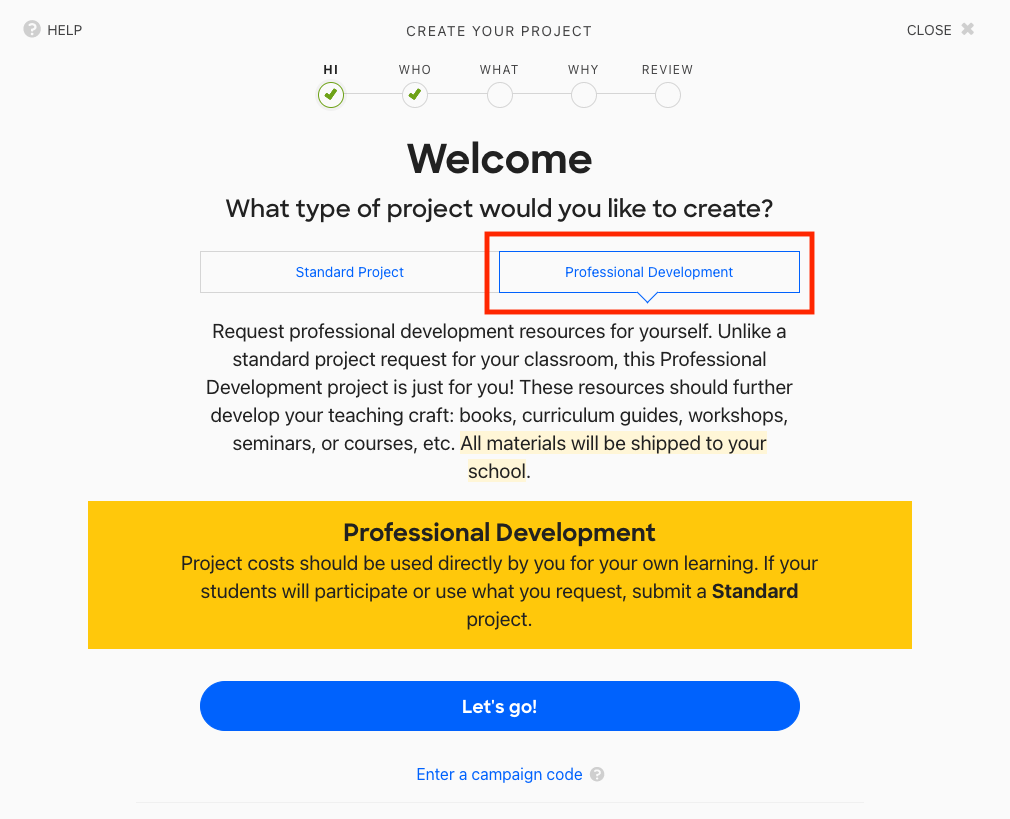 How can I thank my donors?
Donors love having a new way to support your classroom, and they'll be excited to hear about what you learned. Check out our tips for completing your Professional Development Thank-You package.