Teachers
Adding a link to your public profile in your email signature helps you let everyone know about your projects!
Example: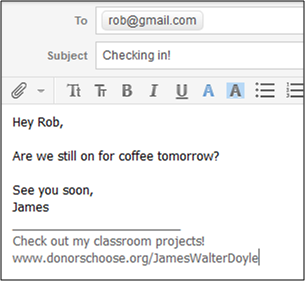 Want more? Discover more great fundraising tips and tools on our teacher resources page.
Donors
You can give your friends and family insight into how you help teachers thrive by adding a link to DonorsChoose.org in your email signature!
Check out my favorite platform for helping teachers thrive! www.donorschoose.org
Did you know DonorsChoose.org was founded by a Bronx history teacher? Learn more!
Have a teacher in your life? Check out DonorsChoose.org to learn how you can support them.
That's not all — take your advocacy to the next level with these tools.
How to update your email signature
Select your email provider to learn how to add or update your signature: