DonorsChoose account credits are like DonorsChoose dollars that you can use to support projects on our site.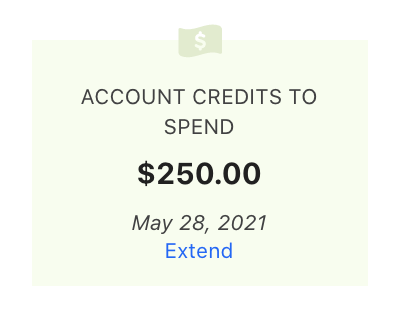 To use your account credits:
Log in to your DonorsChoose account

If you have any unused credits, you'll see them listed on the right-hand side of your "Private info" tab

Select the project(s) that you'd like to give to

During check-out, your account credits will automatically be used as the payment method

Proceed with checkout -- thank you for supporting a project!
Other account credits tips:
If you're a teacher, you can spend your account credits on your own request to give it a boost! Just follow the instructions above, and donate towards your own project.

We won't ask for credit card information during checkout unless you're donating more than your account credit balance. If you are being asked for your credit card information, but your donation amount does not exceed the account credits available, make sure you are signed in to your account.

Account credits cannot be applied at the same time as pledging a check donation.

Account credits can be used to donate to project, or purchase gift codes.

Account credits can expire! Make sure that you use your account credits before the listed expiration date.
Looking for other ways to support teachers and classrooms? Check out our guide to strategic giving!