We're psyched to help you and your students have everything you need for a successful school year.
When creating a new project, it's important to keep in mind the less expensive a project is, the more likely it is to be funded - not to mention the faster your students get those materials and experiences! The vast majority of projects under $400 have been fully-funded within 3 months, while projects costing over $1,000 have a much lower success rate.
Here are a few tips to keep your project cost low:
Submit two, instead of one: If your project resources total over $1,000, find a way to break up your request into 2-3 related projects (i.e., "Nonfiction Books Needed for Our Classroom Library "and "Fiction Books Galore! Help Build Our Classroom Library.") Be sure that your students still benefit from the materials even if just one of your projects is funded.
Explore our vendors: Shop around our vendor directory for the best price. Take a look at where to find commonly requested items.
Bundle it up! Bundles are a fast, easy, and cost effective way to get the items you need into your classroom! Look for our new "Quick Start Bundles" logo to find one-click resource options for your classroom. Soon, you'll see this logo on several vendor sites to help access pre-packaged savings!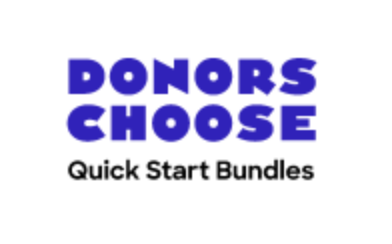 Check out some current, one-click bundle offers:
Build an awesome classroom library for your students using AKJ Collections or Quick Start Bundles
Challenge your K to 5th grade students to figure out how and why things work using Lakeshore Learning STEM Bundles
Find out what hidden musical talents your students have with bundles from Woodwind & Brasswind
Seek inspiration. Start your own search to see teachers with successful low cost projects; you can add on additional parameters such as grade level, resource type and any other search term.