If you change schools and still meet our eligibility guidelines, it's easy to update your existing account so you can post projects at your new school.
Make sure your new school is eligible by checking out our guidelines here.
To affiliate your account with your new school, take the following steps:
Sign into your account.

Click on "Teaching Details".

Click the "Update school information" button.

Click the "I'm at a different school" button.

Use our search tool to select your new school.
Your school's name might be a little different, but you'll be able to see the address to confirm that it's correct.

Make sure your location is correct, especially if your school has a common name.

NOTE: Your school's zip code may be different from the zip code of its physical address because we have an address on file for a district shipping location. This may be due to your district's shipping policies or COVID-19 closures. If you're having trouble finding your school, please reach out to us or ask your administrators if shipments for your school need to go to a location that is not your school building.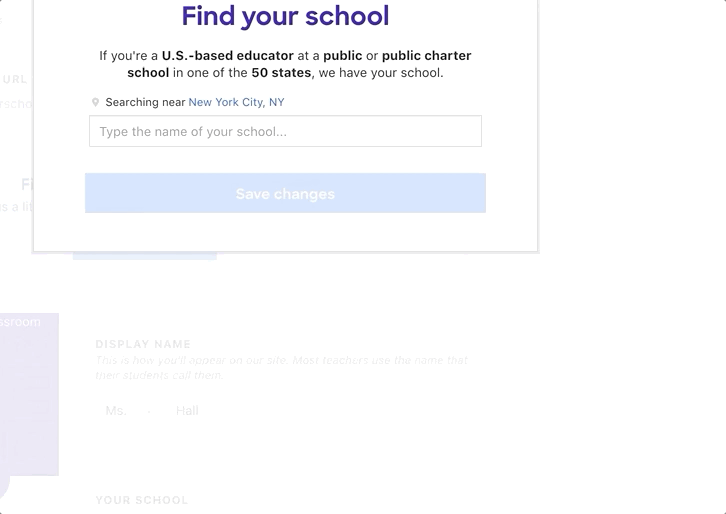 If you can't find your school or if your school is brand new, click "Still don't see your school" inside the yellow pop-up and submit a request to add your school to our site.
6. Confirm that your school information is correct and click "Save changes".
All live projects will display your new school's name. Materials for fully funded projects that aren't yet purchased will be sent to the new school address. If you no longer need the items requested in any of your active projects, you can remove these projects through your teacher account. Learn more.
If you've had projects funded at your old school, read our policy on who owns materials funded through our site.