Materials typically arrive within 2 weeks. Magazine subscriptions, live items, and large items (e.g. furniture, rugs, or materials that require freight shipping), can take up to 6 weeks.
If it's been more than 2 weeks since you received notification that your materials were ordered, review the order status by logging into your teacher account and clicking on the "Order status" link below the title of a fully funded project. For each item, a shipping tracking number or the vendor's estimated shipping and delivery date is displayed.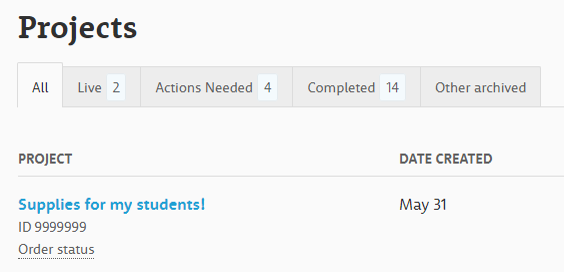 In addition, be sure to check with your front office, colleagues, and anyone who accepts packages at your school. Packages are often signed for and misplaced at schools before reaching the correct teacher.
If you can't find your materials after taking the above steps, contact our team as soon as possible. On our contact form, select the option "Materials for a fully funded project" and let us know if you are missing some or all of your materials. Once we hear from you, we'll contact the vendor and respond to your email as soon as we have an update.